Mahatma Gandhi's Biography
---
Who was Mahatma Gandhi?
Mahatma Gandhi (October 2, 1869 to January 30, 1948) was the leader of India's non-violent independence movement against British rule and in South Africa who advocated for the civil rights of Indians. Born in Porbandar, India, Gandhi studied law and organized boycotts against British institutions in peaceful forms of civil disobedience. He was killed by a fanatic in 1948.
Early Life and Education
Young Gandhi was a shy, unremarkable student who was so timid that he slept with the lights on even as a teenager. In the ensuing years, the teenager rebelled by smoking, eating meat and stealing change from household servants.
Although Gandhi was interested in becoming a doctor, his father had hoped he would also become a government minister, so his family steered him to enter the legal profession. In 1888, 18-year-old Gandhi sailed for London, England, to study law. The young Indian struggled with the transition to Western culture.
Upon returning to India in 1891, Gandhi learned that his mother had died just weeks earlier. He struggled to gain his footing as a lawyer. In his first courtroom case, a nervous Gandhi blanked when the time came to cross-examine a witness. He immediately fled the courtroom after reimbursing his client for his legal fees.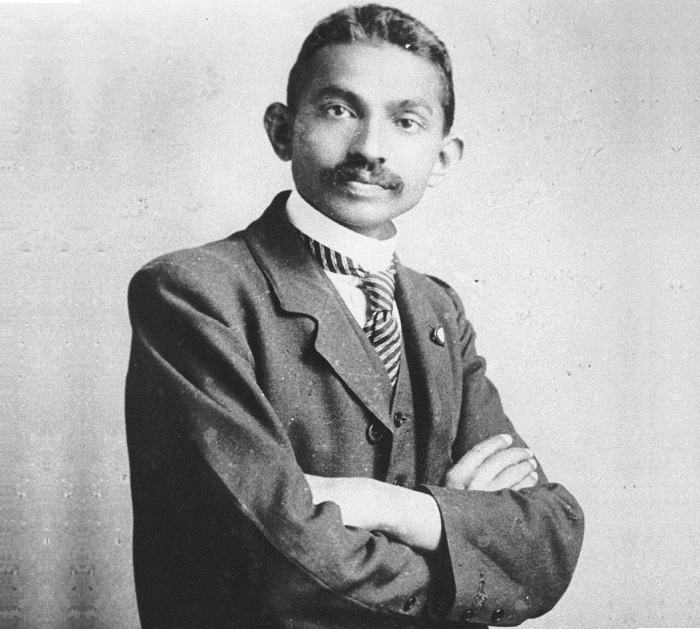 Wife and Family
Mahatma Gandhi's father, Karamchand Gandhi, served as a chief minister in Porbandar and other states in western India. His mother, Putlibai, was a deeply religious woman who fasted regularly.
At the age of 13, Mahatma Gandhi wed Kasturba Makanji, a merchant's daughter, in an arranged marriage. In 1885, he endured the passing of his father and shortly after that the death of his young baby. In 1888, Gandhi's wife gave birth to the first of four surviving sons. A second son was born in India 1893; Kasturba would give birth to two more sons while living in South Africa, one in 1897 and one in 1900.
Reliogion and Beliefs
Gandhi grew up worshiping the Hindu god Vishnu and following Jainism, a morally rigorous ancient Indian religion that espoused non-violence, fasting, meditation and vegetarianism.
During Gandhi's first stay in London, from 1888 to 1891, he became more committed to a meatless diet, joining the executive committee of the London Vegetarian Society, and started to read a variety of sacred texts to learn more about world religions.
Living in South Africa, Gandhi continued to study world religions. "The religious spirit within me became a living force," he wrote of his time there. He immersed himself in sacred Hindu spiritual texts and adopted a life of simplicity, austerity, fasting and celibacy that was free of material goods.
Gandhi's Ashram & the Indian Caste System
In 1915 Gandhi founded an ashram in Ahmedabad, India, that was open to all castes. Wearing a simple loincloth and shawl, Gandhi lived an austere life devoted to prayer, fasting and meditation. He became known as "Mahatma," which means "great soul."

In 1932, Gandhi, at the time imprisoned in India, embarked on a six-day fast to protest the British decision to segregate the "untouchables," those on the lowest rung of India's caste system, by allotting them separate electorates. The public outcry forced the British to amend the proposal.
Gandhi's Assassination
In the late afternoon of January 30, 1948, the 78-year-old Gandhi, weakened from repeated hunger strikes, clung to his two grandnieces as they led him from his living quarters in New Delhi's Birla House to a prayer meeting. Hindu extremist Nathuram Godse, upset at Gandhi's tolerance of Muslims, knelt before the Mahatma before pulling out a semiautomatic pistol and shooting him three times at point-blank range. The violent act took the life of a pacifist who spent his life preaching nonviolence. Godse and a co-conspirator were executed by hanging in November 1949, while additional conspirators were sentenced to life in prison.
Legacy
Even after Gandhi's assassination, his commitment to nonviolence and his belief in simple living — making his own clothes, eating a vegetarian diet and using fasts for self-purification as well as a means of protest — have been a beacon of hope for oppressed and marginalized people throughout the world. Satyagraha remains one of the most potent philosophies in freedom struggles throughout the world today, and Gandhi's actions inspired future human rights movements around the globe, including those of civil rights leader Martin Luther King Jr. in the United States and Nelson Mandela in South Africa.